Worship
with us!
Outdoor Worship 9am Sundays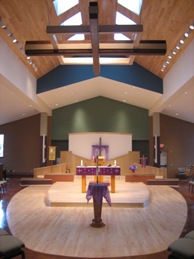 We will gather for worship at 9:00 Sunday mornings in the shaded area of the parking lot. Bring your own chairs and please respect others by maintaining appropriate distance and wearing a mask.
Faith Formation Classes
Faith Formation Classes will begin Wednesday, September 16

Sunday, September 20 at 5:00pm at Faith
All High School students welcome!
Vicar Lily's Weekly Reflections
Sermons from Pastor Dick Inglett and others at Sugar Creek Lutheran.
We move beyond our four walls. If you are in need of anything please contact church staff.
During this time of anxiety let us strive to be a community sharing hope and joy.
FELC Church Office Hours:
Monday – Friday
: 10:00am-12:00pm
CONTACT US
Faith Evangelical Lutheran Church
COPYRIGHT NOTICE: The information on this site is the property of Faith Evangelical Lutheran Church.