Worship
with us!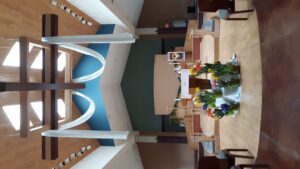 We are gathering together in our sanctuary for worship at 9:00 on Sunday mornings. Join us if you are able.
Faith Formation
Worship: 6:50-7:15
Classes from preK-8th grade
All are welcome to join!

Sunday, October 18 at 4pm

We request that while attending worship service and Faith Formation that everyone still continue to wear a mask. We are still working to keep safe those who have not yet had the opportunity to be fully vaccinated.

Thank you to everyone who helped with our God's Work. Our Hands. projects this year. We painted 12 picnic tables at Toynton Park and made and stuffed 75 Christmas Stockings for local students in need.
The church council will monitor the COVID-19 situation in our area and reassess our policies as they feel appropriate.
FELC Church Office Hours:
Monday-Thursday: 9:00-11:00am
Please always feel free to call and leave a message; someone will get back to you.
CONTACT US
Faith Evangelical Lutheran Church
COPYRIGHT NOTICE: The information on this site is the property of Faith Evangelical Lutheran Church.