Faith Formation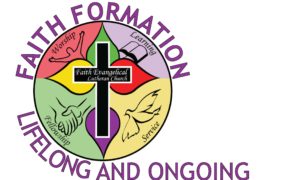 Vacation Bible School (VBS)
at Faith Evangelical Lutheran Church June 15-19, 2020
Youth Education
Faith Formation Classes are held on Wednesday Evenings with a meal starting at 5:15 and class at 6:00.
Wednesday Faith Formation Classes include:
*Rainbow Crew: 3 year olds – Kindergarten
*Faith Builders 1,2: 1st– 2nd grade
*Faith Builders 3,4: 3rd-4th grade
*Pathfinders: 5th– 6th grade
*Young Disciples Confirmation: 7th-9th
*Faithline: A Family Faith Formation Opportunity (meets 6 times per year on the 1st Wednesday)
These are free classes open to all children regardless of church affiliation.
2019-2020 Faith Formation Registration Form:
2019-2020 Faith Formation Schedule
Confirmation Classes are held Wednesday evenings during the school year. Meal at 5:15 and class starting at 5:45.
Confirmation class is typically for students 7th-9th grade who are interested in affirming their belief in the ELCA Lutheran Church.
to all of our dedicated individuals that volunteer their time, talents and resources to these outstanding educational ministries at Faith Evangelical Lutheran Church!
Adult Education
CLAIMED. GATHERED. SENT.
Lenten Adult Discussion
Wednesdays March 4-April 1
Join us as we look at who we are as a people of God.
Session 1: We are church.
Session 2: We are Lutheran.
Session 3: We are church together.
Session 4: We are church for the sake of
Session 5: What difference do we make?
ELCA Social Statement Study
Following Sunday Morning Worship
Sunday, February 20 Topic: Human Sexuality
First Tuesday of the month at 7 pm
Next meeting: Tuesday, March 3 at 7 pm in the Gathering Space of Faith Evangelical Lutheran.
Our current book is:
Grandma Gatewood's Walk: The Inspirational Story of the Woman Who Saved the
Appalachian
Trail
by Ben Montgomery.
Our next book for April-June will be Living Life Backwards.
If you would like a copy of the book, please contact Rebecca at education@felcwalworth.com. This is an open group; come whenever you are able!